Essential Sheet Set
Indulge in the ultimate sleep comfort with our Essential Sheet Set. Crafted from a blend of cotton and temperature-regulating fibers, these sheets are soft, durable, and provide ample airflow and breathability. Say farewell to overheating and humidity build-up, and welcome a supremely comfortable sleeping environment. These sheets are perfect for any bedroom and will offer a cool, comfortable, and incredibly soft sleeping surface night after night.
Note: Stone, Bold Blue, Cream & Java are all Final Sale. Final Sale items are not eligible for return, exchange, or the 60-night trial period.
View full details
Ground shipping and returns are FREE for all US orders. Shipping typically takes 3-7 business days for most in-stock merchandise. Canada and express shipments are available for an additional fee at checkout.
Our 2023 Extended Holiday Returns policy requires that items purchased between November 1, 2023, and December 31, 2023, are returnable and exchangeable through March 1, 2024, except for final sale items or items ineligible to be returned due to our standard Terms & Conditions.
Utilize Shop Pay Installments or PayPal Credit during checkout as flexible payment plans to split your purchase amount into equal and interest-free payments.
Additional Details
The perfect year-round sheet set. A blend of NASA-engineered temperature-regulating technology and cotton fibers absorb and store excess heat when you're too warm and release heat when you're too cool. No matter the time of the year, the sheets will keep you sleeping at an ideal temperature.
Use the temperature guide to balance your bed just the way you like. Or compare other product features here.
Traditional Bedding

---

Bamboo & Eucalyptus Bedding

---

Essential Sheet Set

---
The reviews are in.
Cooler than the other side of the pillow
"I bought these sheets because they were supposed to be cool. OMG best sheets ever. With these sheets, it is comfortable getting into bed and they stay cool. No more sweat shadows!" - Charles M.
Verified Customer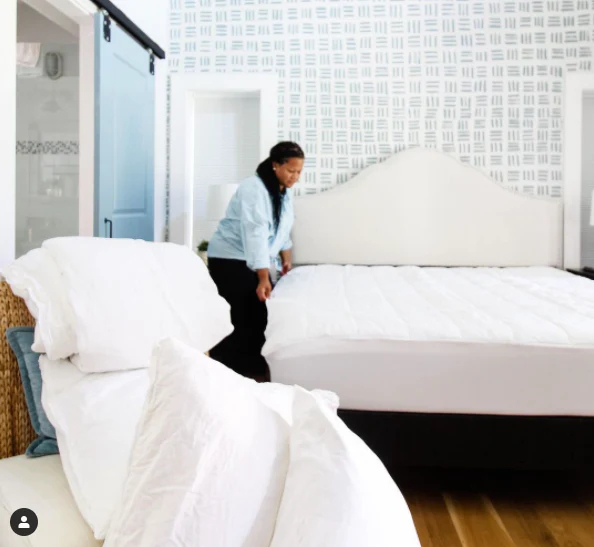 "SlumberCloud has a whole lineup of advanced foundational layers for your bed. ☁️" -@candidlydeena
Best nights sleep
"It's been a week but I've had some of the best nights sleep than I have had in a long time. I haven't had the sweaty feeling at all. I'm not flipping my pillow throughout the night to get the cool side."
Angela H.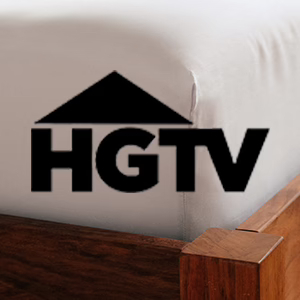 HGTV's Best Blended Cooling Sheets
Great sheets.
"I suffer from night sweats so I tried the sheets to see if they would help me. The first night was such a difference, the sheets help regulate my temperature and keep me cool, and no sweating."
Jessica H.
I could not believe...
"I could not believe how different these sheets are. I have been able to reduce the amount of covers I use. I do not get cold or hot under them. Love the way the fitted sheets are made with the extra elastic design. I have never seen this design before."
Frank C.
Finally.
"For years I would sweat through the night while my wife was always chilly. We can now sleep closer together, stay dry and comfortable."
Matt V.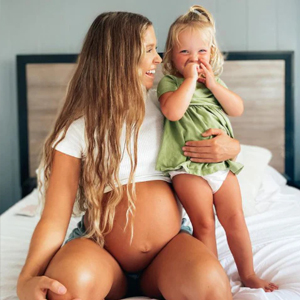 "In love with our new sheets from @slumbercloud!! SO SOFT. 🙏" -@meganbcall
Why we're different.
Traditional bedding and moisture wicking technologies react to changes in your body temperature while you sleep. Slumber Cloud is doing something different.
Slumber Cloud Bedding utilizes Outlast® technology for a unmatched approach to temperature regulation. Outlast® technology is proactive, not reactive. As your body temperature increases during sleep, Outlast® technology stores that heat to keep you cool, and then releases it as you cool down...keeping you feeling "just right".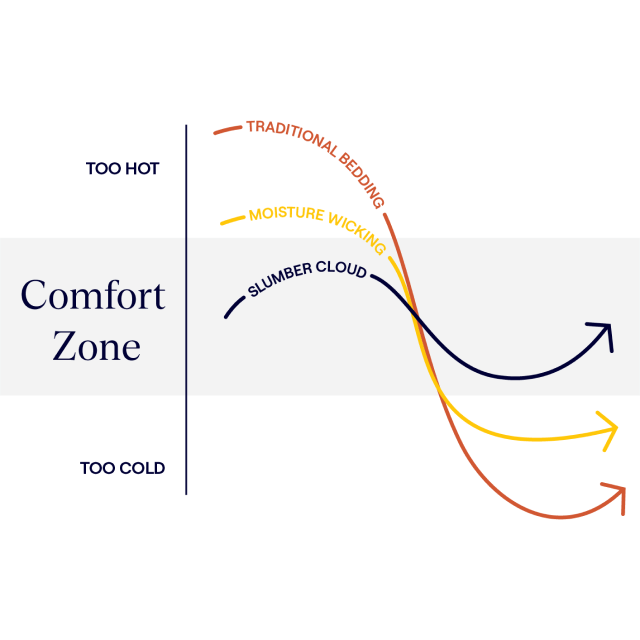 More than thread count, NASA-engineered Outlast® fibers adapt to fluctuations in your temperature for an innovative approach to maximum sleeping comfort.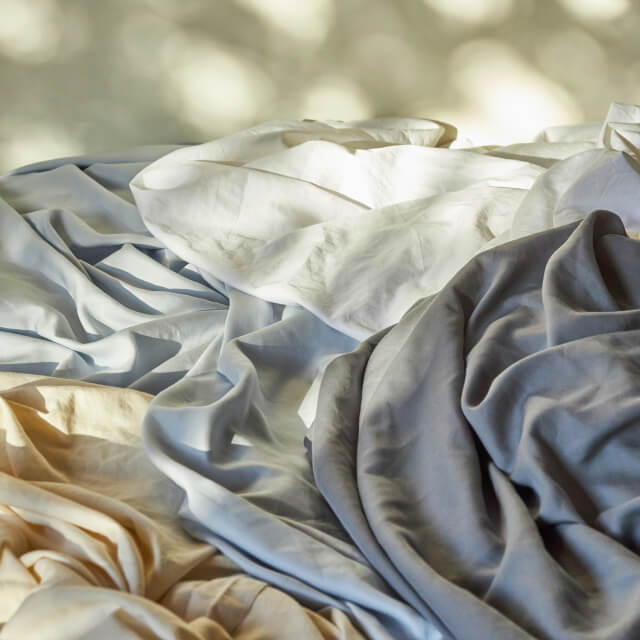 Outlast® materials improve comfort for: Anyone looking for a more comfortable night's sleep - they'll sleep cooler and more comfortably. Sleepers who struggle with hot flashes and night sweats - proactive temperature regulation means they'll sleep cooler and drier and wake up feeling refreshed. Thermally incompatible couples - individuals can sleep at their own ideal temperature.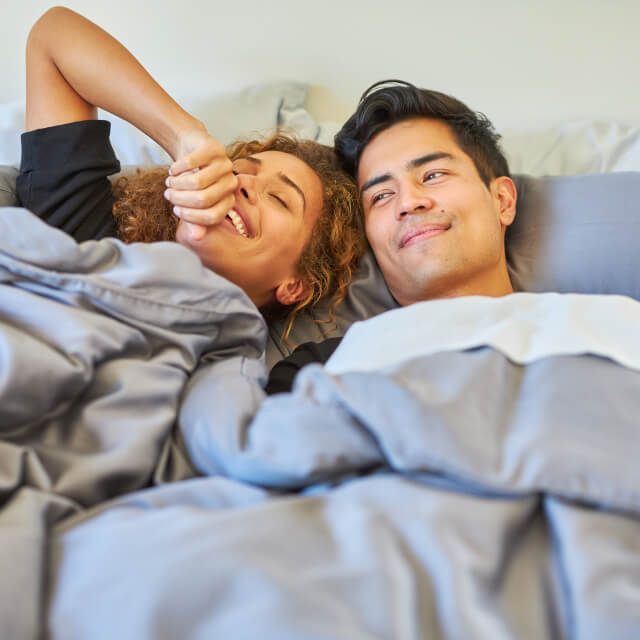 We pass on everything we learn to our customers. From sleep studies to new technologies, we want to help you make informed decisions about your sleep.
Click to learn more about our studies: Heat Sleep Study Humidity Sleep Study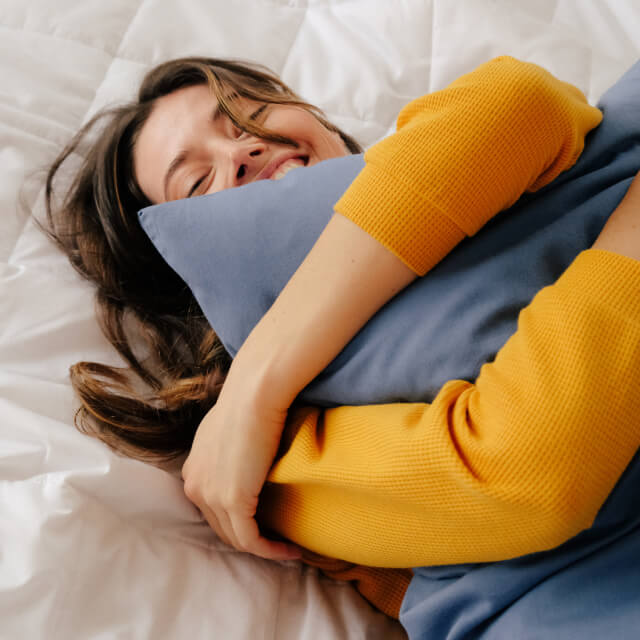 The thoughtfulness is in the details.
It doesn't stop at thread count. It's the little things, the thoughtful details, that make our products the best available.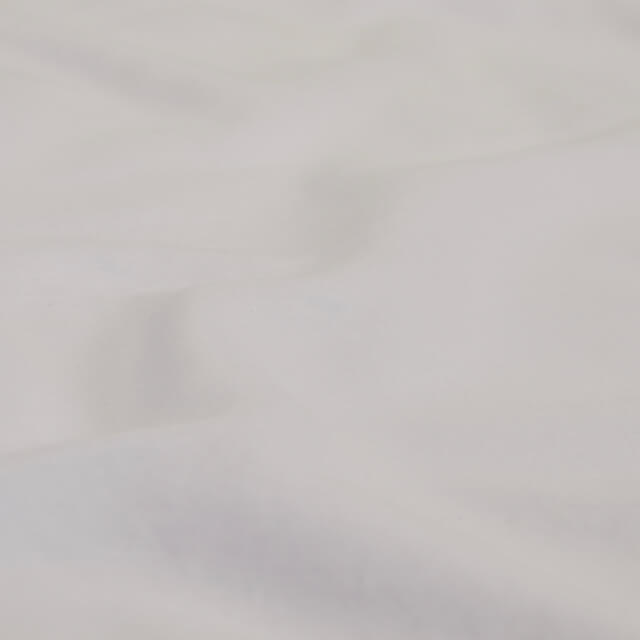 Single-Ply Construction
Single-ply construction means you can rest easy knowing you are sleeping on the highest quality fibers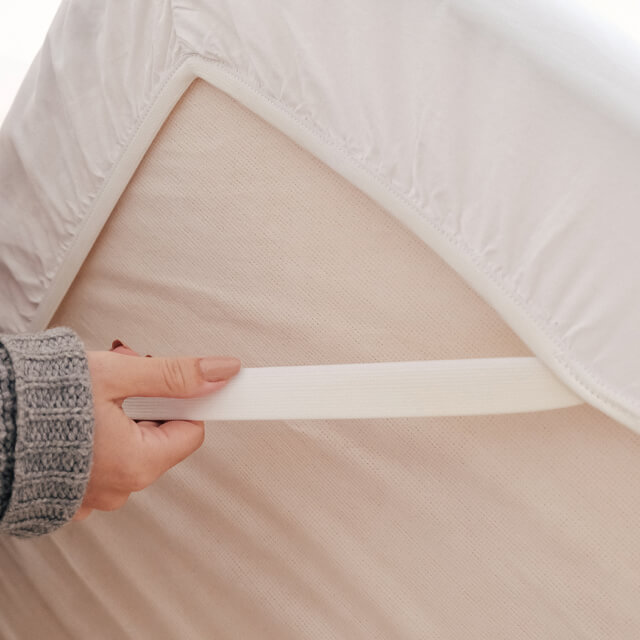 Full Elastic Band
Full elastic band keeps the fitted sheet from shifting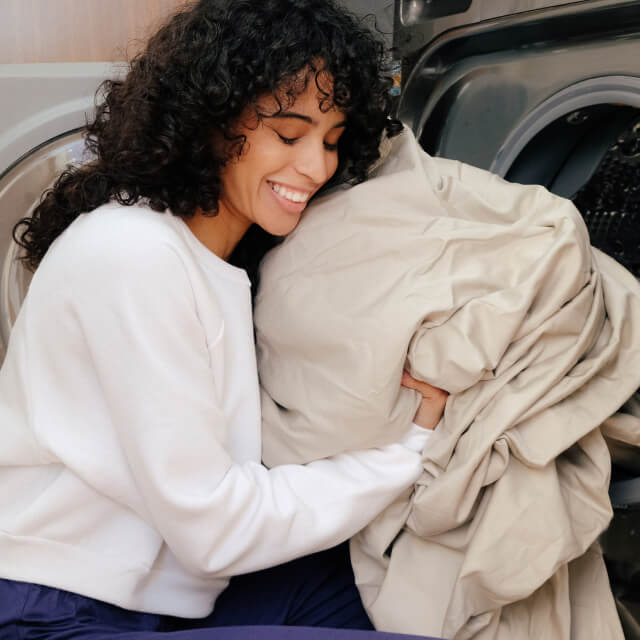 Easy to Care For
Just throw it in your home washing machine
Most frequently asked questions.
I sleep hot, my partner sleeps cold. Is this going to work for us?
Definitely! When you sleep hot but your partner sleeps cold we refer to this as being "thermally incompatible". Our bedding is designed to automatically adjust to each sleeper's ideal sleep temperature. With the unique ability to react to each sleeper's temperature independently, our bedding ensures that both you and your partner will sleep comfortably all night long.
How does the technology in the bedding work?
Outlast® technology is made of a unique material that can absorb, store and release excess heat. As an individual's skin temperature increases, the technology will absorb that excess heat to help reduce overheating. The material will store the excess heat until the skin temperature begins to drop. When this occurs, the stored heat is released back to the individual to prevent chill.
By managing the build-up of heat and moisture under the covers, Outlast® technology helps keep you at a comfortable temperature so you sleep "just right."
How many degrees cooler will this keep me?
Slumber Cloud products are designed to help manage heat and humidity build up. It is not an air conditioner with a set temperature degree, but it will react to your temperature all night long to reduce heat build up and manage temperature swings.
What's the difference between Slumber Cloud bedding and other "cooling" bedding I might have tried?
Slumber Cloud takes a proactive approach to temperature control by absorbing and storing excess heat when temperatures are too warm and releasing heat when temperatures are too cold. This approach is different than most other "cooling" bedding technologies/products on the market that are moisture-wicking (ex. Bamboo & Eucalyptus).
Moisture-wicking is a reactive approach because it doesn't start to cool you down until you build up sweat and moisture and then wicks it off of you. Our products are designed to prevent you from ever getting to the point of sweating and building up moisture.
What comes in a sheet set?
Our sheet sets come with 1 fitted sheet, 1 flat sheet, and pillowcases.
Twin and Twin XL sets come with 1 standard-size pillowcase.
Full and Queen sets come with 2 standard-size pillowcases.
King and Cal-King sets come with 2 king-size pillowcases.
Split-King sets come with 1 king-size flat sheet, 2 twin xl fitted sheets, and 2 king-size pillowcases.
What's the difference between the Essential Sheet Set, the Performance Sheet Set, and the Flannel Sheet Set?
Although all three sheet options are designed to help you sleep cooler and more comfortable, it's important to choose the version that best suits your sleeping needs. Below is a quick overview of each option to help you in this decision making:
Essential Sheet Set:
The blend of cotton and Outlast® temperature-regulation viscose fibers offers a traditional super soft cotton feel. Ideal for those who prefer a more classic sheet but want temperature-regulation performance.
Performance Sheet Set:
The blend of premium Tencel® and Outlast® temperature-regulation viscose fibers offers a buttery, silky performance feel. Ideal for those who prefer silky smooth softness with the most temperature-regulation performance.
Flannel Sheet Set:
The blend of brushed cotton and Outlast® temperature-regulation viscose fibers offers a heavier super soft brushed flannel hand feel. Ideal for those who want a thicker, warmer sheet with temperature-regulation performance.
Can I purchase the flat or fitted sheet separately from a set?
Currently, our sheets are only sold in sets which include the flat sheet, fitted sheet, and pillowcase. However, additional pillowcases are available for purchase.
How deep is the pocket on the fitted sheet?
Our fitted sheets come with 15" pockets. Fitted sheets are designed with an elastic strap to secure tightly on mattresses with varying depths from 5'' to 18''
Is this machine washable?
Yes! Just like traditional bedding, Slumber Cloud products are designed to be washed and dried in your home washer and dryer. Please carefully follow the care instructions on the tag of your products.
Can I use an iron on my bedding?
The technology in our bedding is sensitive to high heats - instead of ironing we recommend using a wrinkle release spray such as Iron In a Bottle for that crisp and finished look.
How do I sanitize my bedding?
How should I remove stains?
Please refrain from using harsh chemicals such as bleach and oxiclean on your bedding. Instead opt for more natural alternatives such as a small amount of dish soap, a warm water & vinegar solution, or specialty formulated laundry detergent such as Dropps
How do I wash my Essential Sheet Set?
To wash your sheet set, please follow the washing instructions on the tag. If you have cut your tags after purchase, then it is recommended to wash with Slumber Cloud Free & Clear Laundry Detergent or a mild detergent in cold water on a delicate spin cycle.
When it's time to dry your sheets, please dry it on low heat or air dry. Do not iron your sheets. To reduce wrinkling, take your sheets out of the dryer and immediately place on your bed or use a wrinkle release spray such as Iron In a Bottle for that crisp and finished look.
Does Free Shipping Apply To International Orders?
Free shipping is only valid for US and Armed Forces delivery addresses. However, we do offer discounted shipping rates to Canada addresses.
Do you ship internationally?
Currently, we only ship internationally to Canada. At the time of purchase we include the cost of shipping, taxes, and duties for Canadian shipments. No additional fees will incur at delivery, but if they do please contact our customer service team at info@slumbercloud.com to take care of the issue. For all other countries, if you find a forwarder or have a friend or family member here in the states, we would be more than happy to work with you to get it there.
Can I still return an item even if it's been washed?
We accept returns in any condition within 60 days of purchase! We want you to absolutely love your new bedding, so if you wash an item, try it out, and decide it's just not for you, we can definitely still initiate a return. Please note we do our very best to donate all returns to local charities instead of a landfill. We appreciate your help in this process by washing any used items before returning them to us.
Are shipping fees covered for returns?
All shipping fees for domestic returns are completely free! When you initiate a return through our returns platform, you will receive a prepaid shipping label to get the item back to us. If you live outside the US and are looking to initiate a return, please check out the return policy in the International FAQs.
How do I initiate a return?
If you're looking to initiate a return, just head over to our returns page! Please note that we are not able to process returns for items listed as Final Sale or past the 60 day return period.
What is your return policy?
Bedding: All bedding products, excluding "Final Sale" items, come with a 60-Day Satisfaction Guarantee. Sleep on it, wash it, and really test it out - If you are not fully satisfied with your new bedding you can return the item(s) within 60 days of your purchase date, no questions asked. A refund will be issued, within 7 business days of receiving the returned product.

Final Sale: Final Sale are not eligible for return, exchange, or the 60 night trial period.

Apparel & Home: Items in new and unopened condition are eligible for a return or exchange within 60 days of purchase. In the event of a return or exchange, our team will inspect the item and if determined it is new, a refund or exchange will be issued within 7 business days of receipt. If the item is in used condition, missing tags, or has been removed from the packaging, the return or exchange will be voided and the product donated to a local charity.
Are your products covered by a warranty?
Yes! All of our products are covered not only by the 60 night trial period but also a 180 day warranty which covers manufacturers defects (i.e. stitching, sizing). Please note in addition to damage caused by disregard of care instructions, temperature performance is not considered a manufacturers defect or covered by the product warranty. Free Shipping & Returns
All U.S. orders are shipped right to your door, free of charge. Try it For 60 Nights
Sleep on it, wash it, and really put it to the test for two whole months! If you don't love your new bedding, just return it for a full refund. No questions asked!